Everyone knows about the 2.5-ton copper tutu-clad "Hippo Ballerina" bronze sculpture that was installed at Pershing Square Plaza West alongside a bunch of her friends—"Hippo Ballerina, pirouette" and "Rhino Harlequin, pirouette"—last year. 
Now, the beloved figure's younger sister, a smaller version of "Hippo Ballerina," has joined "Hippo Ballerina, pirouette," and "Rhino Harlequin, pirouette" at their new home at One Dag Hammarskjöld, the 39-floor skyscraper at 885 Second Avenue by 47th Street in midtown Manhattan. The statues will be on view through March 2024.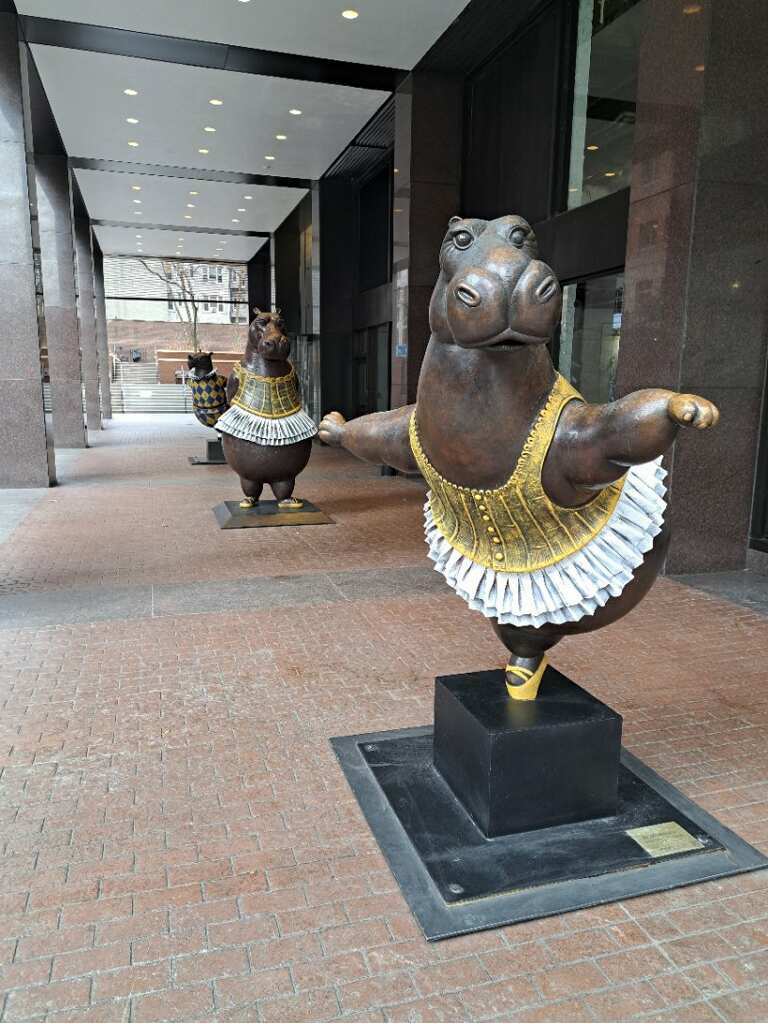 The pieces are the work of Danish artist Bjørn Okholm Skaarup and "Hippo Ballerina" in specific is inspired by Edgar Degas' beautiful sculpture "Little Dancer Aged Fourteen" and the dancing hippos of Walt Disney's Fantasia. Skaarup has once again proven his ability to reinterpret subjects and themes commonly explored in art history, ancient myths, modern animation and even contemporary pop culture.
"I think a fun way to revitalize themes from art history that have been forgotten lately is through animal allegories, because we are so used to that through animation and fables," the artist said back in 2017 when his works were on display at Dante Park by 64th Street and Broadway on the Upper West Side. 
As usual, the city is currently ripe with plenty of opportunities to gaze at outdoor public art, a great daily activity considering the warmer-than-expected weather we've been contending with throughout this fairly odd "winter" we're living through.
Among the outstanding pieces worth visiting is a colorful corridor of lights made of ropes intended to echo the towering urban landscape surrounding in by the Financial District ("Geo" in front of 140 Broadway), a giant colorful archway that was previously on display at Burning Man and has now taken residence at Brookfield Place's Waterfront Plaza ("Pulse Portal" by Davis McCarty) and New York's very own version of Chicago's iconic "The Bean," which you can find at 56 Leonard Street, on the corner of Church Street, in Tribeca. Artist Anish Kapoor's work has yet to be officially named. 
For more of the same, check out our list of the best outdoor art in NYC this winter.
Ex-Brit turned Manhattan resident since 2008.