Taking their cues from the legendary 60's Acid Tests and the Buddhist Sangha ("a collection or assemblage, a group of people living together for a certain purpose," as often described), Ethan Covey and Doc Kelley are striving to create events with a purpose.
The pair, who met when one of Covey's friends brought him to hear Kelley lecture on "Psychedelic Zen Buddhism," became instant friends, as if they had known each other forever.
"We were both interested in community building in New York City — I was organizing photo shows and Doc was putting together a big event at the Rubin Museum," Covey recalls.
Their collaboration as "Psychedelic Sangha" seems to have been inevitable.
"Doc and I love brainstorming, " relates Covey. "We started in a garage in Bushwick doing rock shows and saw the vibe disappearing in the time between the bands' sets and wanted to fill it with something."
They created a meditation section accompanied by ambient sound and light and dubbed it the "Bardo Period," referring again to a Buddhist concept. Eventually they realized that they could expand the idea and make it its own event.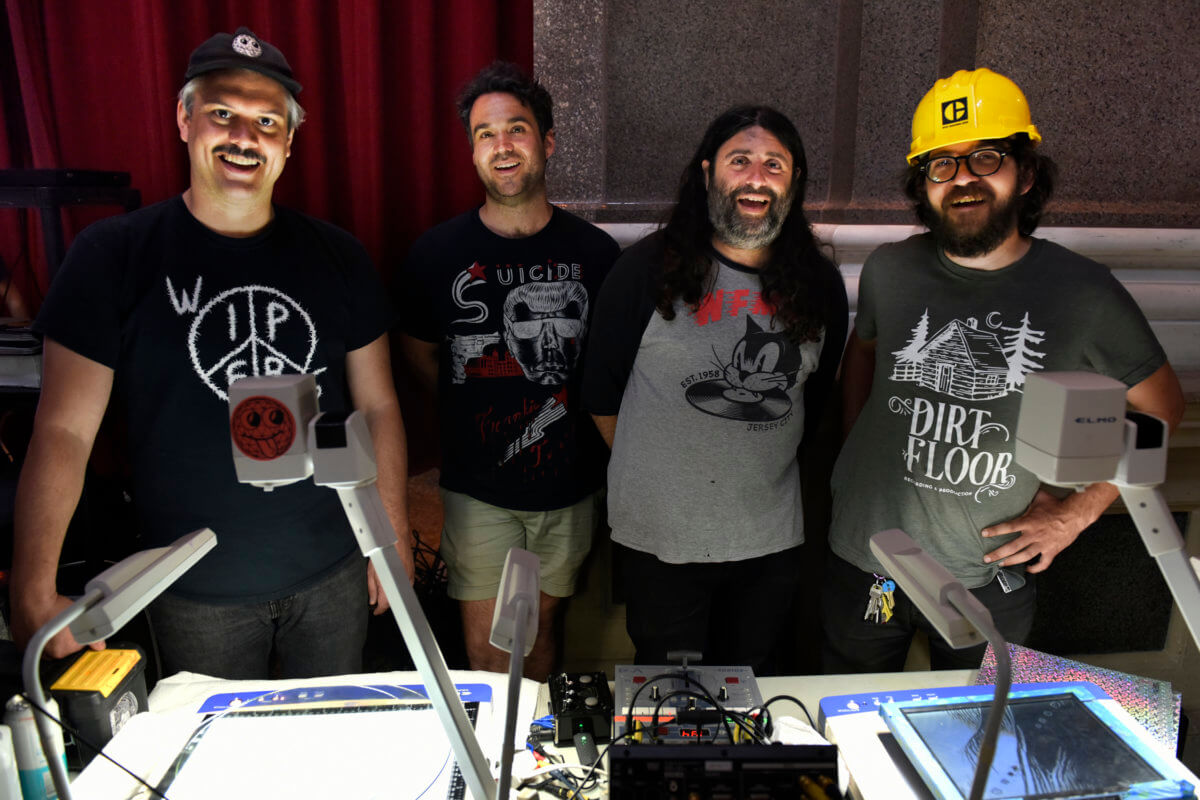 Loft events dubbed the "Bardo Baths" in Williamsburg followed, and then at the Judson Church in the Village — a space that they didn't think they would ever occupy.
"It was during the pandemic," Doc explained. "We always wanted to be in that space, but the cost was prohibitive. It's a place that can hold 300 people, but we limited it to only 30 to keep it safe."
The church gave them a deal they couldn't refuse and the pair ended up producing five nights there, bringing in their light show and a band that was willing to forgo their usual fare and improvise for an hour or so.
Combos they have hosted in the past include Wet Tuna, Ancient Oceans, Starbirthed and one of their more frequent guests, the Brooklyn-based Garcia Peoples, who played on Friday night in Williamsburg.
Formerly the Williamsburgh Saving Bank, the ornate venue is now named the Weylin. The space has seen everything from art shows to weddings, but this was something different.
"We are a spiritual community without a guru," says Kelley. "Part of our mission is to create a safe space where you can exercise your cognitive liberty. Our events are dose friendly, but we're not telling you that you have to do drugs, but if you do you're going to be safe."
Friday's events — two shows, limited to 50 people capacity — lasted an hour and a half each, with participants bringing yoga mats and stretching out on the floor beneath a beautiful domed ceiling that didn't need any additional projections to be entrancing.
Macrodose (Chris Georges and Greg Thrasher) ran the light show that covered much of the wall space with Juggable Offense (aka Bubba Ayoub) while WFMU DJ Jesse Jarnow provided the musical atmosphere before and after Garcia Peoples, who obviously enjoyed the creative freedom of improvising in the unusual ( and reverberant) setting.
Beginning and ending with Covey's meditation instructions, the room seemed like an oasis away from chaotic city life. One of the attendees, apparently known as Furry Thug, was one of the many in the room who had experienced a Bath before.
"I loved it!" he proclaimed. "It was a great time. I've been to almost all of their events. They are all unique and they are all great."
For Megan Riordan, it was, well, an eye-opening experience.
"I feel very nourished," she said. "Meditating with my eyes open was a new experience. I loved the music, even though it's not what I would usually listen to. I feel like I'll be absorbing the experience for awhile. I'm looking forward to my dreams tonight."
Covey, a professional photographer and Kelley, who teaches Asian Religion courses at the New School and is a partner in the shop Fez in the Bay Area, are not exactly exactly making money off this venture, but they are definitely getting something out of it.
"We can't overstate how great it felt to host this event! The space is beyond compare, and the Weylin team were terrific to work with," says Kelley. "Seeing such a large, happy, engaged audience was deeply inspiring. This was likely our best event yet, and we are looking forward to doing it again."
"This was our biggest production so far," Covey informs us. "It was an incredible experience and the feedback was great. We have a lot of ideas…we want to make the next one different. The future began that evening."
For further info, check out psychedelicsangha.org and psychedelicsangha.bandcamp.com on the web, and @psychedelic_sangha and @shopfez on Instagram.
Ex-Brit turned Manhattan resident since 2008.