The day threatened rain but the weather gods looked on kindly, mainly coolish but not even sprinkles. Smiles abound.  Villagers met in Washington Square Park en masse on Saturday to help Greenwich House mark 120 years serving the neighborhood. 
Open-sided tent shelters circled  Garibaldi Plaza, each tent providing a showcase for one of the myriad of programming Greenwich House offers. On Oct. 1, Greenwich House launched its 120th anniversary tribute to serving Greenwich Village.
Beaming under their masks, the knitting ladies of the Older Adult Center at 20 Washington Sq. North gossiped with each other and visitors,  directing those who visited the booth to pass by their Center on nicer weather days.  There, in front of the Center,  they might be able to snag a wintery hand-knit hat and matching scarf at a real bargain and the proceeds going to the Center's programs. 
Nearby, the most adept artists adorned faces of children and adults alike with the most beautiful or whimsical face-painting motifs at the booth highlighting the Nursery School Program  (Barrow Street). 
Similarly, adults and children stopped at the After School program table  (Barrow Street) to expressively use the array of colored pencils and sharpies.  
Across the plaza, children tapped xylophones from the GH Music School table (Barrow Street) and engaged kids worked their clay creations at the table top pottery table.  (GH Pottery, Jones Street).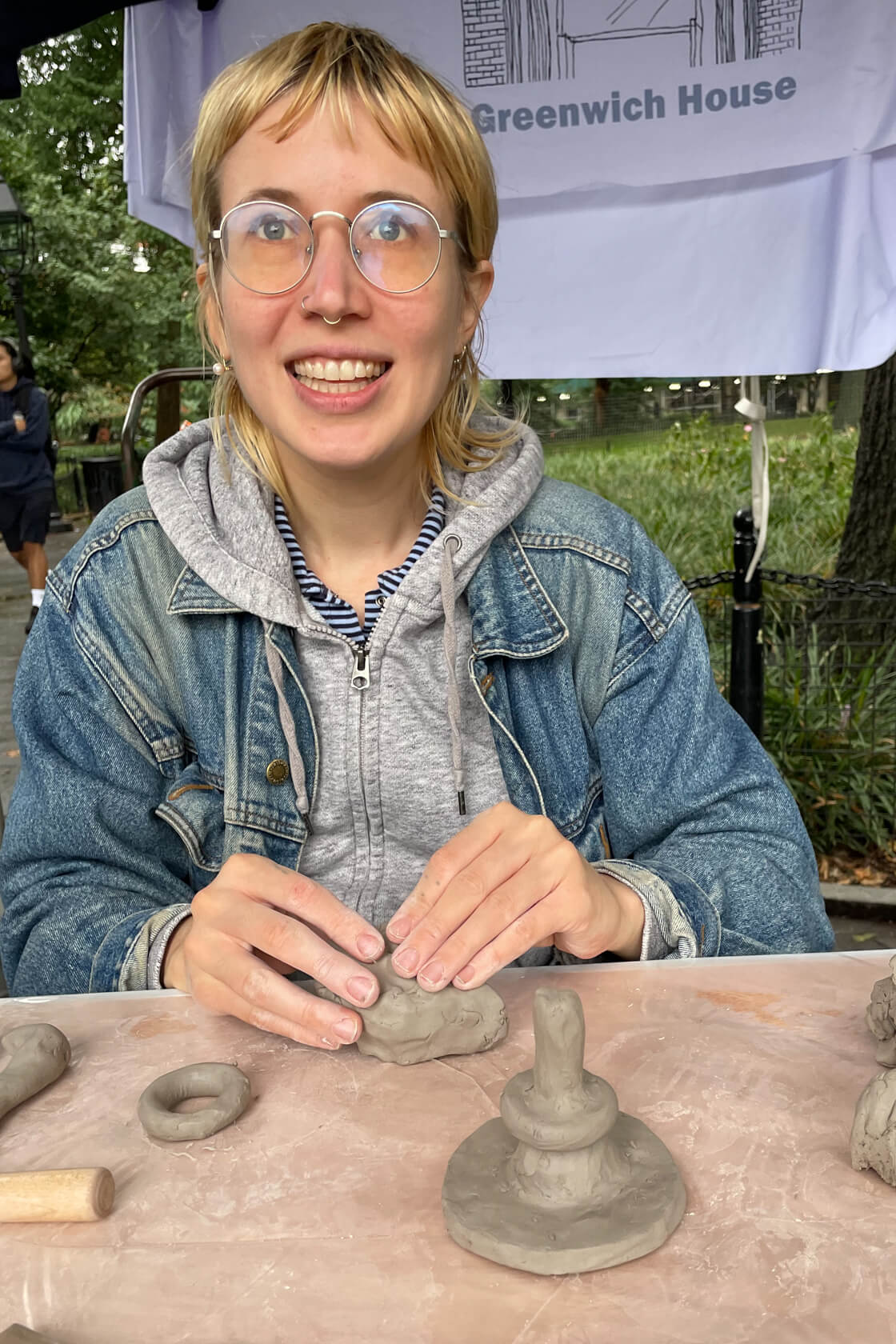 The drug treatment program (Methadone Maintenance Treatment Program, Center for Resiliency and Wellness)  provided administration info and gave out Narcan (opioid overdose) kits. 
Meanwhile, high energy musical entertainment flowed from the Garibaldi Plaza stage. Overcast skies didn't mean it was a dreary afternoon.  Children-oriented music and songs transfixed the young-ins and then, the ensemble Dance Clarinets infused jazz into the midst.  
A class practiced Tai Chi with GH instructor Ken Grey followed by Naomi Goldberg Haas'  invitation to any and all passing through the plaza to join her Movement Speaks class, which she weekly conducts on Tuesday mornings at the same spot. 
Over the years GH has kept  (and expanded)  its mission to improve the living conditions among Greenwich Village residents since it opened its settlement house doors on Thanksgiving Day 1902. Helping new immigrants adjust to new life, vocational skills,  and a focus on health and nutrition were among the services first offered. Greenwich House quickly established itself as a pioneer social service agency.  Early on, arts programming began to focus on music and pottery and Greenwich House opened the first official day-care center for children in 1920 to help a new community of working mothers.
The 60s, 70s, and 80s saw GH providing for drug treatment needs, senior services, and a response to the AIDS crisis, continuing to adapt to a changing neighborhood. 
Now a nursery school, music school, pottery center, youth community center, older adult centers, and health services make up the core of Greenwich House services today.  
In addition to the continuing fully-packed programming for each of the schools and centers, there are special anniversary events to look forward to.  Barrow Street Nursery School will hold its Bake Sale & Community Service Drive, on Oct. 17,  the Barrow Street Alumni Ice Cream Social will take place on Nov. 4.,  the Older Adult Centers will step lively at their Through the Ages dance social on October 20, the 120th anniversary gala will honor and pay tribute to this important institution on Nov. 15 and the percolating sounds of Dance Clarinets will blow off the roof on Dec. 8. 
Ex-Brit turned Manhattan resident since 2008.