Hundreds of activists jointly marched over two of New York City's iconic bridges Tuesday to demand additional funding for excluded workers impacted by the COVID-19 pandemic.
Dubbed "Excluded No More," the initiative is calling for the compensation of noncitizen workers who have lost a job or income amid the pandemic and are ineligible for unemployment insurance as well as permanent employment protections. The appeal, however, is not a cheap one.
After receiving more than $2.3 billion in aid last year from the state, the legion of primarily immigrant construction workers, delivery workers, laundry workers, medical professionals and others are asking for some $3 billion in additional funding in the New York State budget and a permanent program to provide unemployment to these excluded workers — and they are not taking no for an answer.  
Although some excluded workers finally received COVID-19 relief earlier this year they have been calling out legislatures and Governor Kathy Hochul saying that the Excluded Workers Fund (EFW), created in 2021, was merely a Band-Aid for a fraction of the population it was dedicated to, and permanent legislation must be made to provide economic relief and protections for undocumented workers.
Simultaneously marching over both the Brooklyn and Manhattan Bridges, hundreds of emotional protesters made their presence known by bringing traffic to a screeching standstill as the groups flooded into the bridges on March 8. Showing solidarity with the marchers, yellow cabbies–who had previously undergone a hunger strike in order to help fund their medallions–lead the rally with their vehicles.
Elected officials such as City Comptroller Brad Lander also leant his legs to the march and his voice to the cause.
"We're out here today to say those folks, everybody that did that work, needs to be included in that fund, the Excluded Workers Fund must be refunded in the budget. We're gonna shout it loud enough so they can hear us up in Albany," Lander said.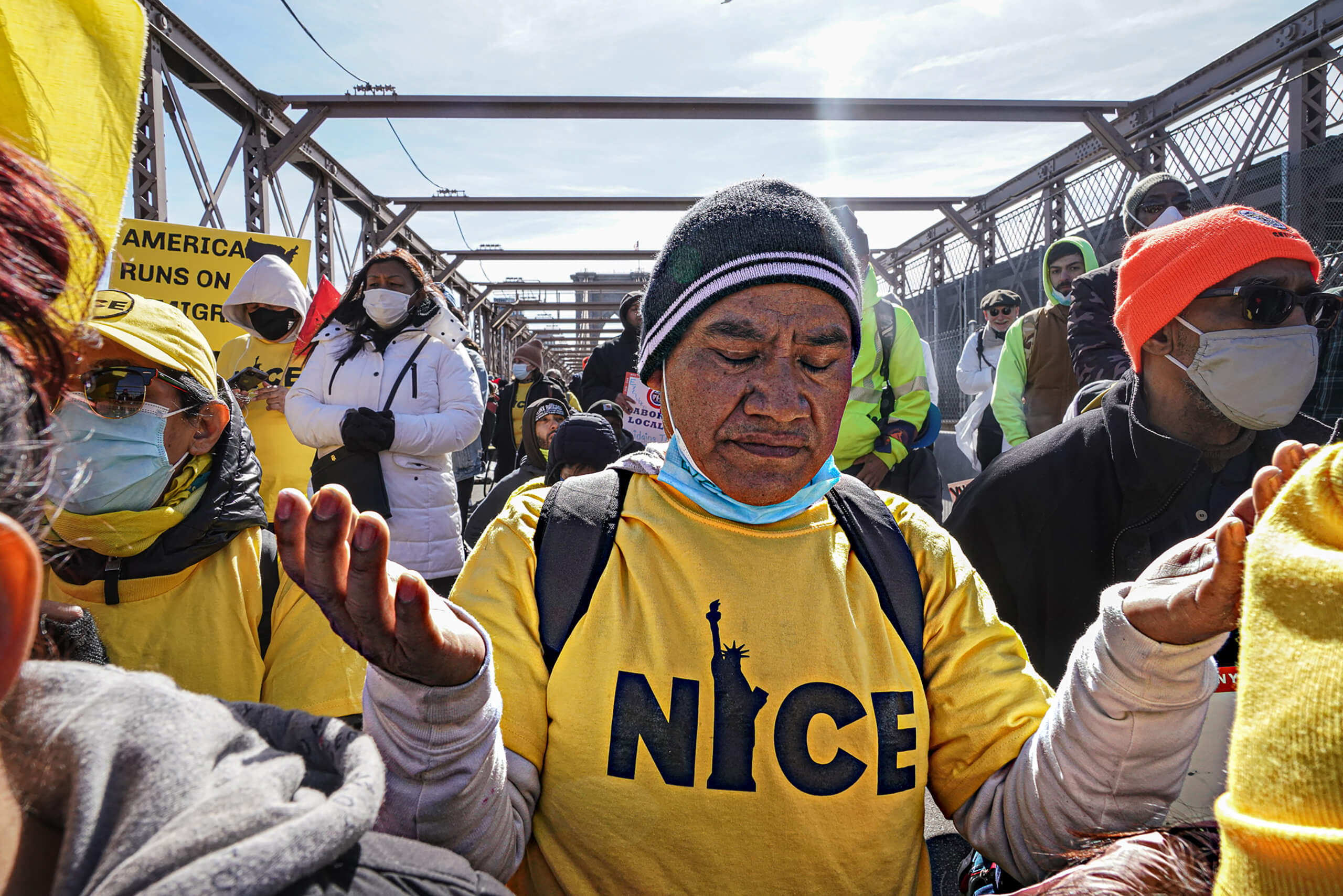 Halfway across both bridges the groups fell to their knees and with raised fists and streaming tears, they remembered those who perished before receiving funding.
"During the pandemic I witnessed coworkers, family members, and friends struggle to make ends meet because they were not fortunate enough to qualify for unemployment," Local 79 organizer Alvaro Gonzalez said. "More legislation will not only shine the light on contractors who refuse to pay payroll and unemployment taxes, it will contribute to the New York City recovery. It's time to level the playing field for responsible contractors who already make these contributions."
The EFW started accepting claims in August and has distributed approximately $2 billion to over 130,000 applicants. By the fall of 2021, the sheer number of applicants nearly exhausted the funds and applications would no longer be accepted.
With final state budget negotiations taking place in less than three weeks, both the young and old marched with fervor, ensuring their voices were heard. Some carried gigantic banners over the Manhattan Bridge while others waved flags and played drums over the Brooklyn Bridge. Both groups pointed over the river at one another, just being able to make out their signs, walking in opposite directions.
While those crossing the Manhattan Bridge walked toward Brooklyn's Cadman Plaza, those marching over the Brooklyn Bridge ended their protest at City Hall.
Ex-Brit turned Manhattan resident since 2008.