They came for treatment, but they stayed to loiter, panhandle and even illegally self-medicate — drawing concerns from neighbors over their well-being.
The Kips Bay neighborhood of Manhattan is a bustling commercial area with restaurants, supermarkets, apartments and a movie theater. But residents and local business owners say this East Side community has been seeing an influx of people under the influence and in obvious need of more help than they've been provided.
In fact, they've noticed something in common among those acting erratically or seemingly high on drugs on their streets: Almost all of them seem to have been recently discharged from nearby Bellevue Hospital, with many of them still wearing plastic identification wristbands applied upon hospital admission.
"I walk around the area, and I see it with everyone — it is worse now more than ever," one business owner located on 32nd Street near 2nd Avenue said.
One only need stroll through the area mid-afternoon on a weekday to witness individuals hunched on curbs inhaling compressed air dusters as cyclists pass by without batting an eyelid or unbalanced, shirtless men meandering in dazed stupors.
Kips Bay was once known as a quiet space to live, so how did the district transform into one large cry for help?
Yiorgos Bellapaisiotis cycles through the area every day and voiced his concern for the welfare of people he sees laid out unconscious on the ground for hours. Showing amNewYork Metro photographs he had taken on his cellphone of unconscious men and women in the street, the artist likened the scene to that of a human art installation and blames local hospitals for what he feels is a disregard for humanity.
"I see them completely zoned out, spaced out, and usually in the middle of the street. It is almost like they become these art installations but not by choice. It is so interesting that this is an area where there are all these hospitals and yet there isn't the sensitivity for someone to say we must do something for these people," Bellapaisiotis said. "Seeing the hospital bands make it worse as far as how the hospitals take care of these patients. Like, shouldn't you be monitoring who is in and who is out? [A patient] is out for how long? Three hours? Why am I seeing him half dead on the floor? You are responsible," he added.  
Chris Corliss has lived in Kips Bay for a decade. He says he does not feel endangered, but rather sympathetic to the loiterers' plight. With the COVID-19 pandemic leaving a harsh toll on many New Yorkers, he believes this could be a coping mechanism to deal with the world as it is.
"It feels like people who are having a rough time and trying to get back on their feet. One thing that definitely happened during the pandemic is that you went from that population being 2% of people you saw in the street to them being 20% of people you saw in the street, but also there are less people on the street in general," Corliss said.      
It is not merely storefront workers and pedestrians who have had issues with the belligerent drug abuse, motorists passing through the area likewise encounter disputes. Often spotted using crutches or a walker, some feel this shows yet another telltale sign of hospital patients.
amNewYork Metro observed a man on the corner of 29th Street and Third Avenue, blocking traffic with his body, even going so far as to lay back on vehicles until he received a cash toll. This behavior can go on for hours until the panhandlers grow weary and slink to the ground.
In an attempt to gauge the value of care those individuals are receiving, amNewYork Metro made several attempts to speak with the directly impacted. From incoherent bellowing to non-verbal responses, most had very little to say regarding their treatment, save for one man who simply could not recall his time in Bellevue Hospital.
"I don't remember, I was asleep the whole time — I just got out," he said.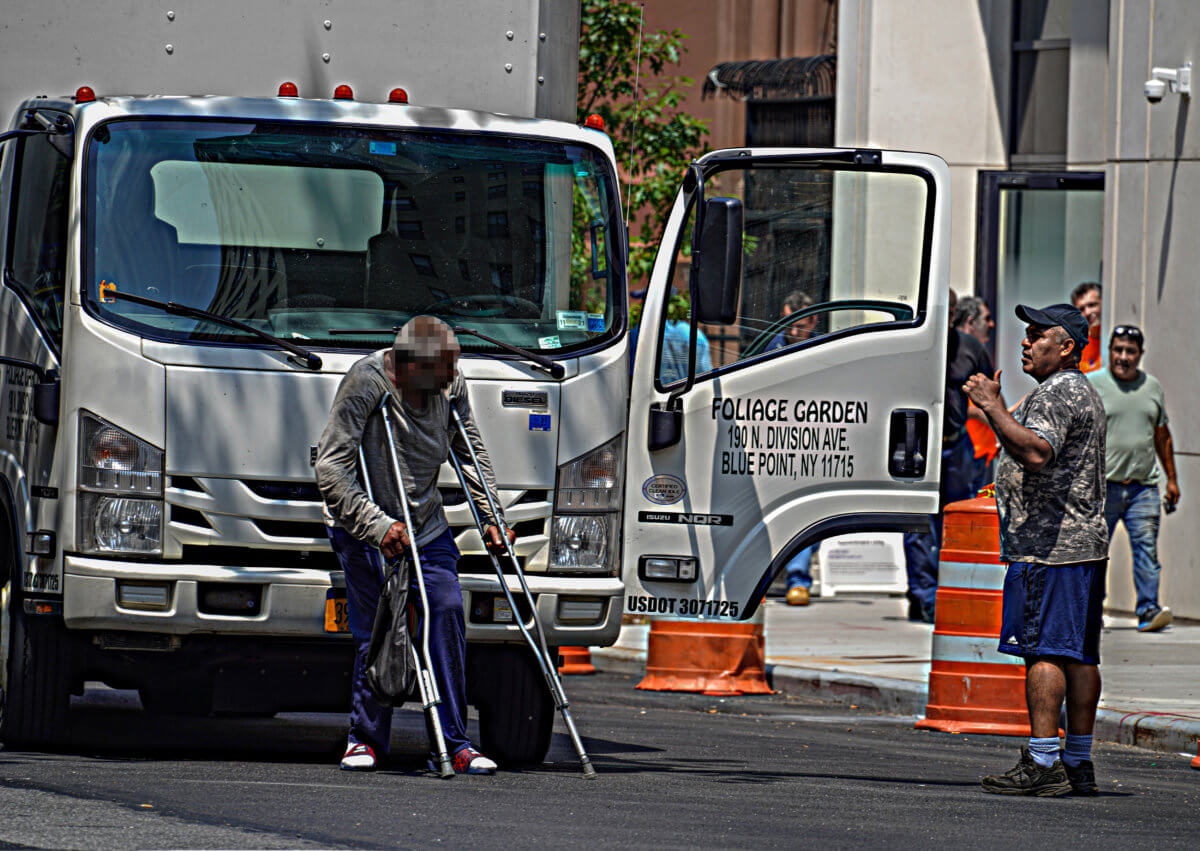 Bellevue Hospital, the NYC Health + Hospitals facility at the corner of East 28th Street and 1st Avenue, is known to have a large drug treatment center and an outpatient psychiatry clinic.
A spokesperson for NYC Health + Hospitals indicated that Bellevue Hospital only discharges its patients when staff believes are ready to leave their care, and that it connects patients in need with various social services to ensure they can recover and rebuild their lives following their hospital stay.
"As members of the Kips Bay community, we take this seriously. NYC Health + Hospitals provides medical and mental health treatment to New Yorkers with substance use disorders. Our hospitals, including NYC Health + Hospitals/Bellevue, provide compassionate care, and patients are only discharged when our providers believe they are stable and ready. We also connect patients to social work and case management to help link them to other services they may need following discharge. We ask that neighbors support those in need, and reject stereotypes and stigma around substance use disorder," a spokesman said in a statement.
However, according to those who work, live, and travel through Kips Bay, the lack of transitional aid following a mentally ill or substance addicted patient is apparent — and, in many cases, disturbing.     
Local elected officials are also aware of the claims and have been monitoring a steady rise in reported drug use. Although efforts have been made to make local tenant associations aware of the matter and distributing Naloxone and harm reduction kits as well as on-site drug treatment programs in area shelters, the issue remains prevalent.  
Council Member Carlina Rivera told amNewYork Metro that she remains vigilant in her efforts to aid all those involved.
"My team and I have been working with local partners and city agencies to ensure services are provided to New Yorkers experiencing homelessness and issues of health and safety in the community are addressed," Rivera said. "Housing is not just a human right — it's a public health imperative. To address this crisis, the city must prioritize creating more affordable housing opportunities."
Ex-Brit turned Manhattan resident since 2008.