Amazon warehouse workers are getting injured at skyrocketing rates, elected officials and workers said at a Thursday rally in Manhattan as they called for new safety legislation.
A coalition of unions joined state Senators Jessica Ramos and Brad Hoylman outside of the JFK2 Amazon Fulfillment Center on West 35th Street to condemn the online delivery giant for failing to protect its workers.
Those at the rally accused Amazon's New York warehouses of neglecting its workers while the company profited and expanded. According to a report from the New Yorker for a Fair Economy, which analyzes data from the Occupational Safety and Health Administration, worker injuries rose 64% in New York, compared to a 20% national average.
All the while, Amazon doubled its number of facilities in the state, with 89% of those reported injuries being serious enough to prevent workers from performing their duties.
"During the pandemic when more New Yorkers were ordering stuff online and demanding faster deliveries and faster deliveries, there was a real human consequence to that convenience," Ramos said. "Companies have to self-report how often workers are getting hurt and how they're getting hurt. And unfortunately, the warehouse right behind us is still yet to self-report."
An Amazon spokesperson said in response that the company has taken measures to respond to the demands of the COVID-19 pandemic.
"We hired tens of thousands of additional people to help us meet the unforeseen demand from COVID-19 and people turning to Amazon to help them safely get products and supplies during the pandemic. Like other companies in the industry, we saw an increase in recordable injuries during this time from 2020 to 2021 as we trained so many new people. Reviewing all of the OSHA data, it's clear that from 2019 to 2021, Amazon's recordable injury rate declined by more than 13% while the three other large retailers in our industry saw their rates increase. While we still have more work to do and won't be satisfied until we are excellent when it comes to safety, we continue to make measurable improvements in reducing injuries and keeping employees safe," the Amazon spokesperson said.
Nevertheless, Ramos and Holyman, and Assembly member Latoya Joyner, have sponsored the Warehouse Worker Protection Act — legislation that would have warehouse employers disclose work quotas and prevent employers from disciplining workers if they fail to meet a quota for either taking needed rest periods and bathroom breaks or complying with other health and safety laws.
"We've been working very hard to pass our warehouse worker protection act before the end of session and that means that we only have a few days left and why it's critical that every New Yorker know what's happening in the Amazon warehouses just like this one behind us," Ramos said.
Lennox James, a UPS teamster, knows the pain of suffering a work-related injury. However, standing with his arm in a sling, he pointed out that thanks to his union he receives protections, something Amazon employees do not have after the recent vote.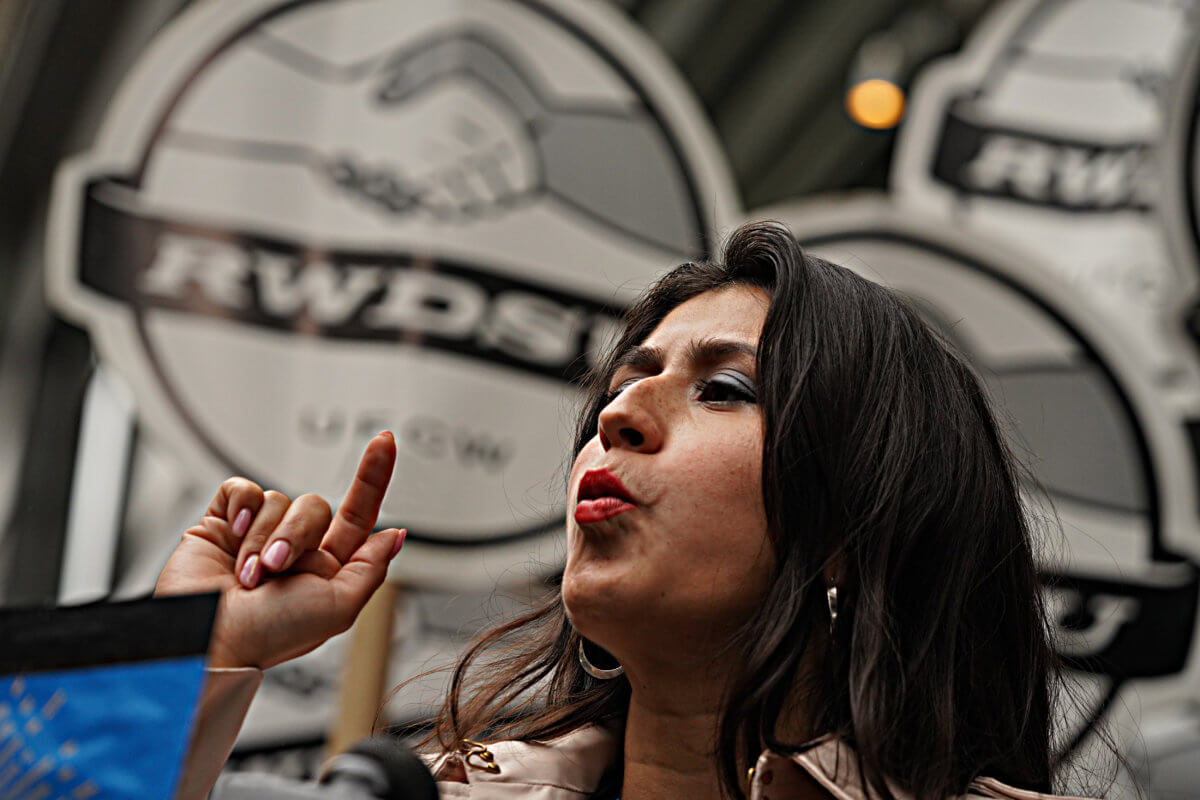 "I personally have experienced the overproduction standards that UPS has imposed on us. We are able to push back against this aggression and this excessive production standards because of the fact that we have a union, a union which provides us with checks and balances in the form of grievances and other mechanisms, which protects us against this sort of extra production standard," James said.
Amazon responded that safety is an important matter to them.
"The safety and well-being of our employees is always a top priority. We recognize that helping employees stay safe in physical roles takes a lot of focus and investment, which is why we're investing hundreds of millions in safety in many different ways, from people—we now have a team of more than 8,000 dedicated safety professionals—to training, to tools and technology," the spokesperson said.
Ex-Brit turned Manhattan resident since 2008.