I touched The Ball. I don't know if I was supposed to touch The Ball. I wasn't told not to touch The Ball, so I touched The Ball. I half-expected to be electrocuted or at least granted three wishes by the troll who lives inside (health, wealth, and time travel). Instead, the palm-sized, triangular Waterford crystal, attached via a central screw, sort of wiggled. I wondered if I should tell someone like a nervous flyer noticing part of the wing isn't joining us in the friendly skies, but I touched a second of the 2,688 crystals, and it wiggled about a half-inch, too. It must have been of those situations where it's more secure if it's less secure, like how skyscrapers are supposed to sway a little in the wind and newborns should have a few electrical outlets to play with. If there was something wrong with The Ball, now was the time to find out. It was 11:30am on New Year's Eve Eve and I was at the top of One Times Square for a combination dress rehearsal-press opportunity: The Ball Test.
Getting to The Ball was a feat. One Times Square, the building that's hosted a New Year's celebration since 1905 when the New York Times moved in and gave the area its name (Times Square), was under active construction. Gray fence doors, white hard hats, neon orange vests, black-and-white waivers ("God forbid," an employee said), and yellow-and-black "Caution" tape streamers were the welcome committee. ("It's going to get worse," a member of the construction crew told me.) The only hint that the ground floor used to be a Walgreens was a soot-covered, cursive "W" on the floor, which felt like a clue in The Da Vinci Code pointing the way to some secret hidden chalice of DayQuil. For $500 million, the interior is to become a Times Square Museum and the exterior of the building is set to get better billboards. Against God, The Ball will eventually be popping, dropping, and locking multiple times a day to tourists on an observation deck. The last holiday figure that only works one day a year will be Santa.
After an elevator and a few flights of stairs, I reached the summit to face The Ball. The entire platform was about 20×30 feet, and on the ground was a collection of thick, black cables, tied together, wrapped in circles and attached to the madame of the hour. The unlit, grayish, large geodesic was hovering just above the ground, skewered by the 130-foot pole it slides down. It's a fascinating object: inhuman, majestic, as wide as a rhino and as heavy as an elephant, but covered in Waterford crystals like no rhino or elephant ever has been. Waterford's been involved since the New Millennium in 1999, with a revamp in 2007 for the 100th Anniversary, and for the past 13 years, it has been replacing 192 crystals every year with different designs in their "Greatest Gifts" series. To the disappointment of children everywhere, the gifts aren't Xboxes or gift cards, they're priceless, boring things like Wisdom and Imagination. This year's design, a series of interlacing hearts that look like a shamrock to nod to Waterford's Irish headquarters, is the "Gift of Love."
I've been trying to fall back in love with New York via tourist attractions, so the Times Square New Year's Eve Ball Drop was a necessary part of my itinerary. Hell, I'd already been forced to simulate the ball drop twice already on other attractions in a museum and on a bus. But attending live sounded horrible.
"It was just terrible," a friend told me who did it one year. "Sleet. Cold from the ground radiated up my feet. 6 hours. They would not let us leave for the bathroom."
"How did your aunt like it?"
"Loved it. But agreed never again."
Whenever anyone says that a million people gather in Times Square to watch The Ball drop, know that the verb "gather" is doing a lot of wistful heavy lifting. To get a spot, you have to arrive over eight hours in advance, and there are no bathrooms. A sip of cold brew in Times Square is already a tiny prayer, but a sip of anything there on New Year's Eve will teach you quickly there is no God. Some people (no hyperbole) wear diapers. As a bedwetter through age 13 whose bladder was bested by their growth spurt, I have no desire to return to my adult diapers era. The Ball test would have to do—proximity to the ball making up for the fact that we were counting down to 12:14pm.
The folks with large cameras set themselves up in front of a large, prop lightswitch, branded with its sponsor Carnival Cruise Lines. Chef Emeril Lagasse, who was just named the Chief Culinary Officer of Carnival Cruise Lines, would be flipping the switch. While Times Square is full of a sea of people at midnight, 100,000 people will be at literal sea on Carnival Cruises. We counted down to 10, and Emeril flipped the switch. There was a half-second delay between the flipping of the Carnival Cruise line "Choose Fun" switch and The Ball's actual illumination, a pause that led me to believe that we'd been lied to: someone, somewhere else was flipping the actual switch. The ball illuminated in a spectacular sparkle. "The Ball is capable of displaying a palette of more than 16 million vibrant colors and billions of patterns," read a press release. Color me stupid, because I didn't know there were 16 million colors. If I were on a game show, I'd guess there are maybe 64 colors or 256 colors, numbers put there by Crayola and computers, certainly not 16 million.
For the curious, Emeril did not say, "Bam!" I think if ever there were a clear and present moment to invoke "Bam!" it would be flipping a switch to activate 16 million colors. I wondered if he'd grown tired of the catchphrase, or perhaps "Bam!" had been trademarked in such a way that not even he is allowed to say it anymore. 
As The Ball rose up The Pole, a team of seven in black sweatshirts guided The Cord up along the back of The Pole. Despite its name, the New Year's Eve Ball isn't particularly testicular, except for this large cord attached to it. None of the light designs personified the ball or turned it into anything: no eyes or a mouth. It was just a glittering, shimmering, shiny ball, an orb, an almighty, heavenly sphere descending, something a billion people can agree on. If someone from New Year's Eve 0 B.C.E. were suddenly transported to the present day and saw the ball descending, they'd worship it. Or say, "Nope," and run.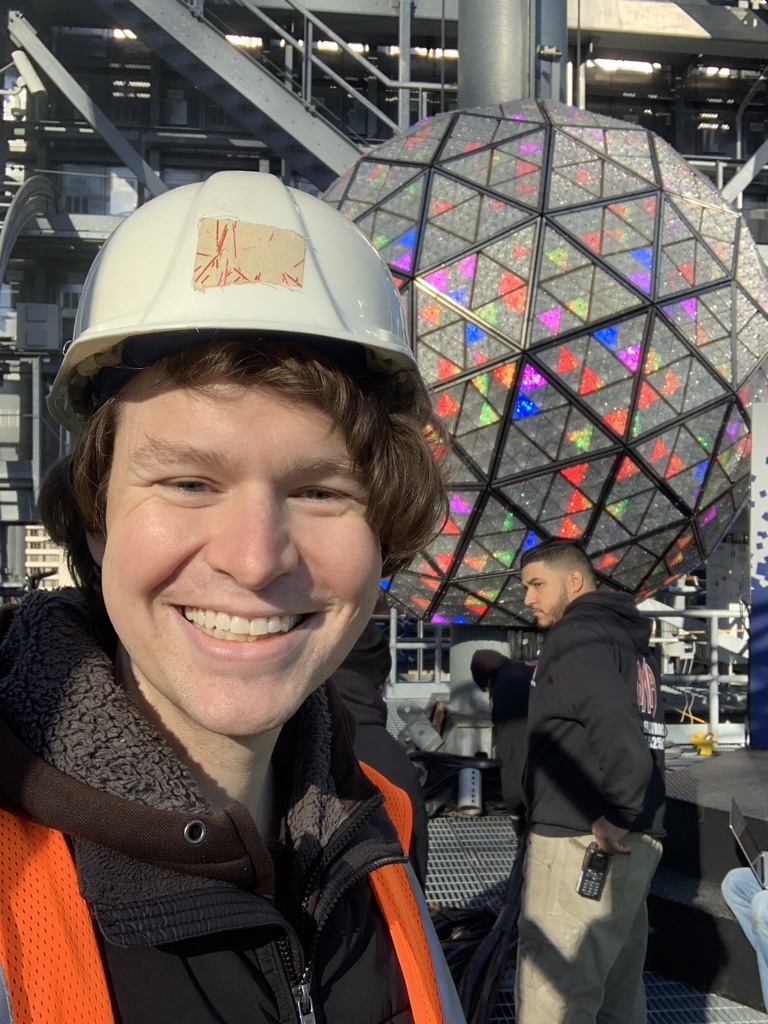 The more impressively high the ball went, the smaller it became—the way it shrinks if you travel back in time. It was smaller before the 100th anniversary in 2007, and smaller still for Y2K. Before that, it was a red apple in the 1980s as part of the I ♥ NY campaign, and before that, even smaller with aluminum, then steel, until 1907 when was just an iron and wood ball holding 100 25-watt bulbs, weighing only 700 pounds, manipulated by six guys and some ropes (insert joke here). And before that, there was no Ball: just two years of fireworks from the New York Times. The event was eye-catching, but it was eye-burning. After raining hot ash on thousands of spectators below, the whip-smart folks at the Times brainstormed The Ball. The new technology of electricity and a maritime tradition of dropping a ball at noon led to the solution. Save a two-year dimout on account of the Nazis, a ball of light or some size and design has descended in Times Square ever since, like a vertical abacus ticking away a year.
I felt lucky to get to see The Ball so close, but something was missing. No shade to the Ball of Light, but the true spectacle might be the crowd: the million people who will fill the steel-barricaded streets of Times Square to watch the actual Ball Drop. They say real, true, local New Yorkers would never attend, but why? Sure, it's incredibly unpleasant, crowded, and involves hours of waiting, but so does traveling Southwest. I don't think anyone particularly likes waiting, certainly not waiting in the rain, but maybe tourists have a longer-term memory-making mentality. They're living not for today but for the rest of their lives. One unpleasant eight-hour shift will give them a memory, a story, a notch on their belt, and the experience of a million bodies feeling joy, the release of a year, anticipation, a conclusion, and the tension of resisting their body's natural desire to urinate.
I don't believe in souls, but I think our hearts are connected by cords we can't see. And when the million send their joy toward The Ball, I have to believe it bounces off and travels to someone else. Lest you think I'm mad for thinking there are things beyond our perception, I took a photo of The Ball on the roof and noticed something. On my phone, the ball was sparkling in a dazzling design, but when I looked at it directly with my eye, it wasn't. I asked a crew member in a black sweatshirt what was going on.
"You can't see that?" he asked me.
I paused, considering perhaps I'd aged out of experiencing glittery wonder.
"Are you fucking with me?" I asked.
He smiles. "It's something to do with the number of frames."
Against God, I found myself in Times Square at midnight the next night. Carolines on Broadway, a Times Square comedy club, asked me to host their last show of 2022, which also happened to be the last night of Carolines on Broadway. A prohibitive rent increase after a 10-year lease ousted the club. The result was a special energy in the room, a crowd willing to clap a little louder, and a staff navigating two sold-out crowds, the emotions of pending unemployment, and the inebriation of no longer giving a fuck.
When the show ended, a secret exit took us and the crowd through an office building to a section of the street seemingly just for us. Across barricades were a thousand people who'd been waiting in the rain for eight hours. I felt embarrassed that we strolled up just before midnight, right when the rain stopped, and even popped a bottle of illicit champagne. One thing they had that we didn't: polyester Planet Fitness-branded Mad Hatter hats, purple with gold tinsel billowing around the brim. I'd seen them on TV before, they looked incredibly silly and I definitely wanted one. 
As midnight approached, "Imagine" was sung, and then the countdown began. The ball was quite small from far away, but I could imagine myself under its right edge, wiggling a few of its crystals like a Bushwick millennial. I did a silly comedy video for the first part of the countdown, asking the crowd to rate me and growing disappointed as I sank from 9 to 8 to 7. Then switched my phone to capture the moment. The ball reached the bottom. The numerals lit up: 2023. "Auld Lang Syne" played over speakers, then Frank Sinatra's "New York." Confetti started to pour from above in incredible volume, covering the skies in multi-colored, man-made scraps of snow. Groups of balloons and a few strays could be seen rising toward the sky.
On the ground, I hugged my friend, the assistant booker at Carolines, newly unemployed, and some other comics on the show. There's a camaraderie at midnight on New Year's Eve, where we're all humans just agreeing to celebrate still being alive.
An audience member offered me a hit of his joint. We chatted a bit and I mentioned my want.
"You want a hat? I'll get you a hat," he said. He was very proud of being someone who made things happen. I didn't doubt him. He had that energy. Within minutes, a small child was waiting on the other side of the barricade with a crumpled hat while the stoner fished for $10.
"You got $10?" he asked me. I didn't realize he wasn't going to make my dreams come true so much as he was going to broker the opportunity for me to make my own dreams to come true. All I had was a twenty, so I made the little girl's night and she made mine. The hat was crumbled and very wet, which she had disclosed. I think she had just found it on the ground, which was why she parted with it so easily. I tried it on and it was too small for my head, which was probably for the best.
I went back down into Carolines where the last of their booze was drank, and the green room become a hot box of memories and weed. I hugged Caroline herself who was crying, and ate a piece of cake. Eventually, high on three different strands of weed, I left the club and wandered as far south toward The Ball as the police would allow. The streets of Times Square were covered in a sludge of confetti, rain, and ponchos. Leaf blowers were getting the confetti off the sidewalk, and crews with shovels were scooping the midnight revelry into the backs of garbage trucks. A new year had been born and Times Square was covered in its afterbirth.
A man in a tux was laying on the ground while his husband rubbed his belly, another person was stumbling and being helped by friends. Two other very drunk men were pretending to sell their 2023 glasses to passersby. A small dance party had started outside an office building. The right number of people were the right amount of drunk.
As a time-keeping device, The Ball isn't great. It can only tell you whether or not it's almost midnight on December 31st of whatever year you're in and about to go into. But it does tell you that a billion people care about this place, that a million people are willing to make a pilgrimage to it, just to see it and to be in the crowd. I rode this outpouring of second-hand joy home, my crumpled hat under my arm, but it wasn't just these tourists' love of New York I was feeling. I felt delighted that I get to stay.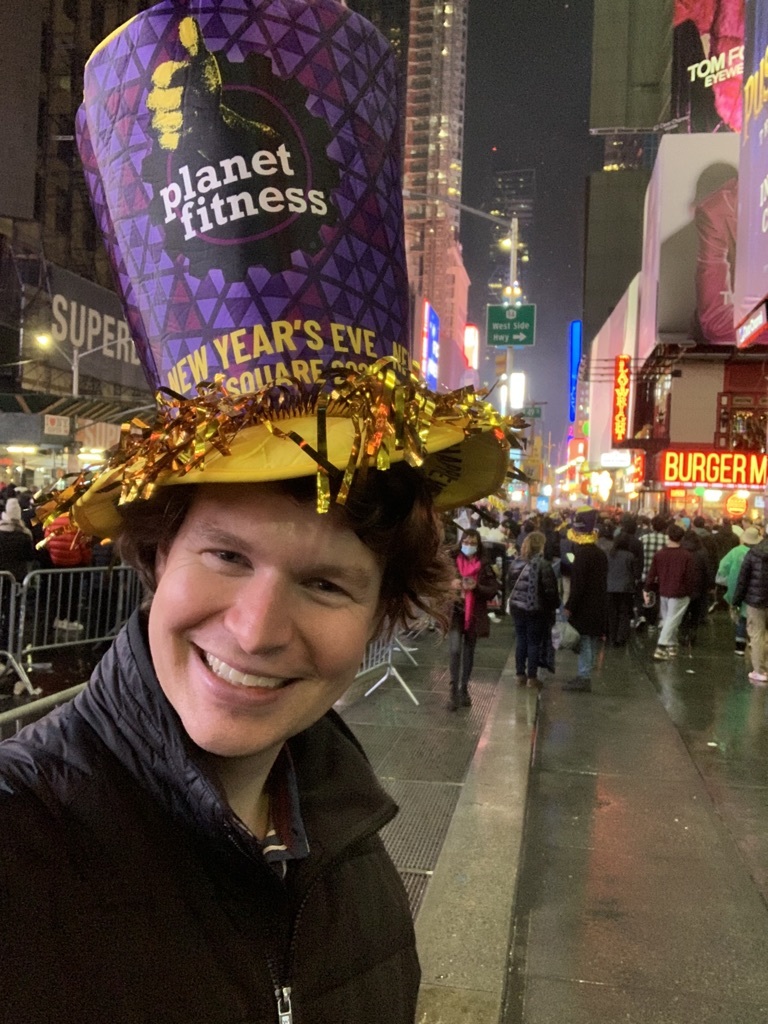 Zach Zimmerman is a comedian, writer, and author of TimeOut New York's "Pretend I'm A Tourist" column. A regular at the Comedy Cellar, Zach has appeared on The Late Late Show with James Corden and had a debut album "Clean Comedy" debut on the Billboard Top 10. Zach's writing has been published in The New Yorker, McSweeney's, and The Washington Post; and Zach's first book Is It Hot in Here? (Or Am I Suffering for All Eternity for the Sins I Committed on Earth?) (April 2023) is available for pre-order now.
Ex-Brit turned Manhattan resident since 2008.