They say the most romantic building in the world is the Empire State Building. While I'd never accuse a skyscraper of ballot stuffing, I would like to know where the Times Square Olive Garden falls in the polls. The building's claim to this title is the result of a number of rom-coms that have immortalized the building and its view, along with 93 years of marriage proposals, actual marriages, celebrity visits, and the twinkling, changing skyline, it is the site of magical romance. If this building is so full of love, maybe being in it would stir something inside of me and rekindle my love for New York City.
I was greeted at the building's base by Renita, a tour guide whose seen a lot of changes in her 20 years there: super-scrapers being built, the Twin Towers falling, proposals, marriages, celebrity visits, and the time when Will Ferrell showed up in costume to film Elf and she had no idea who he was, so she called security. She greeted me with a hug and a smile as wide as the building is tall. The lobby was recently redone after COVID with a replica structure that she insisted I nab a picture in front of. In addition to being my guide, Renita was my photographer, and, hopefully, the doula in the birth of my love for New York.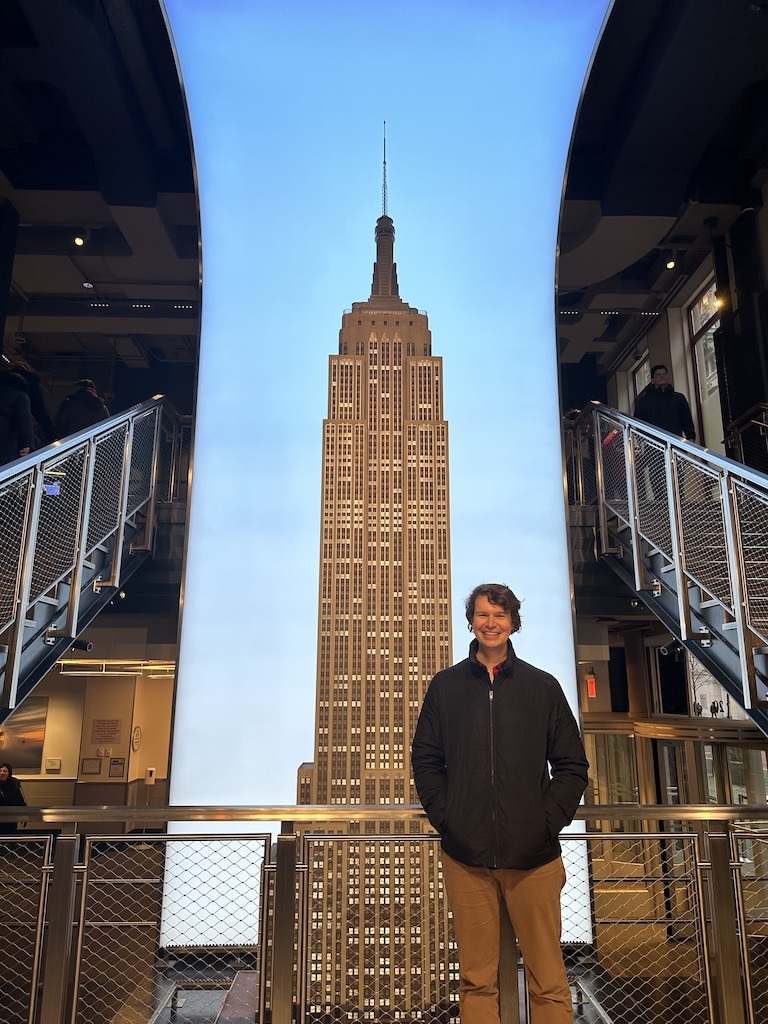 We weaved through exhibits about the building's history—life-size video of riveters assembling the building (I normally don't find construction riveting), posters of movies that helped turn the "Empty State Building" as it was called in 1931 into a famous tourist destination, a list of the office buildings tenants (LinkedIn, Shutterstock, Expedia, oh my), and a hall of celebrities who'd visited the 1,454-foot tall building.
Instead of romance, I found myself hungry for gossip. When we passed through the celebrity visit pictures, I started mining for tea like a TMZ reporter.
"Was anyone ever rude?"
"Everyone was very nice," Renita said diplomatically, "Except one person. But I'll keep that to myself."
I took a guess, and I must have been close enough that she spilled the beans without my prying. Who? I'll keep that to myself.
Then, I tried to stir up drama between skyscrapers.
"What do you think of Edge?" I asked.
She paused. Then, tactfully said: "They have the view, but they don't have the history."
The history was on display in more exhibits: King Kong poking his eyes through a window, posters for An Affair to Remember which led to Sleepless in Seattle. There was a simulated elevator ride and then we stepped into one of the old elevators, too. New York City tourist attractions are obsessed with elevators because the elevator really made New York New York and tourists are lazy.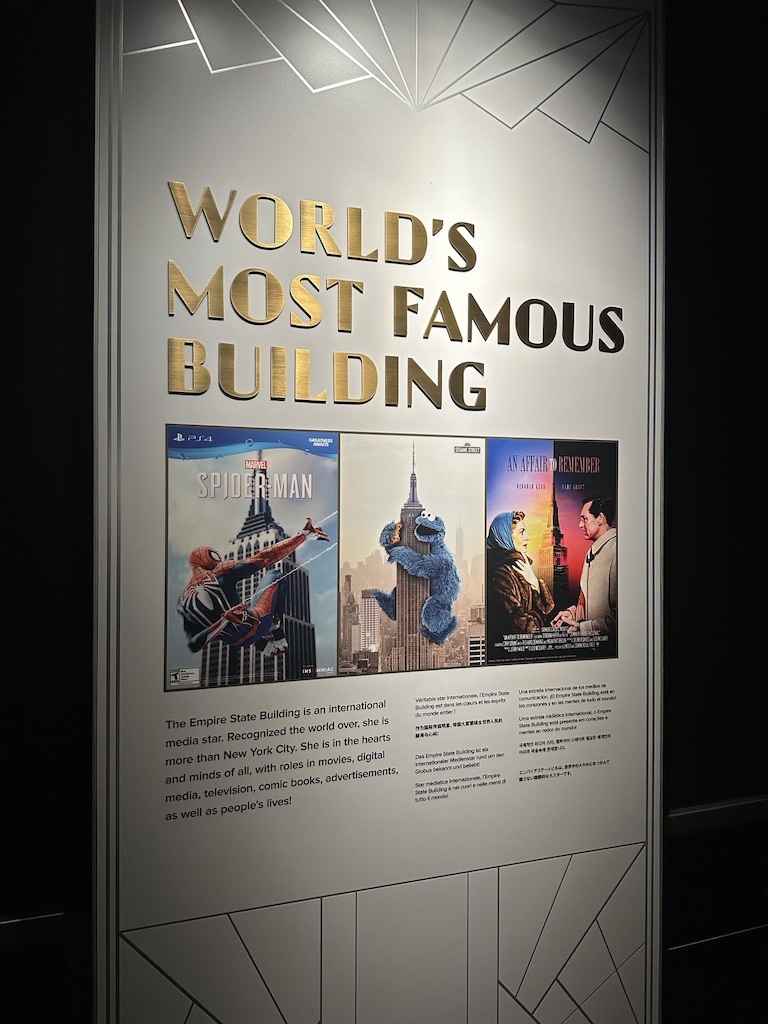 I lost track of where we were (the benefit of having a guide) when we stepped off to take it a more recent piece of art inspired by the building. In 2017, artist Stephen Wiltshire drew the New York skyline from memory after a 45-minute helicopter ride. "After many, many years of traveling and sketching cities across the globe," the British artist remarked in a press release. "I always come back to Manhattan as a place for inspiration. The Empire State Building has long been my favorite building in the world." His drawing is on display at the building, and it also inspired a wing named after him: parts of his pencil-and-pen drawing are blown up on the wall in an area with telescopes pointing out in every direction. Renita was Stephen's tour guide when he first learned about his dedicated wing. He turned away from her and wept.
All this background was prologue—vegetables we had to eat before a final elevator took us up for dessert. As a graphic T-shirt in the gift shop summarized nicely: "I'm here for the view."
The Empire State serves its view three ways: the open-air deck on the 86th floor, the closed fishbowl on the 102nd, and the exclusive, open-air, VIP, tiny spire-spinning 103rd floor. With a few more IMDB credits, I was promised access when I return. Renita had me pose in the fishbowl, snapped photos, and traded facts and figures with the other employees when I asked questions about buildings I could see, and whether the helipad in the distance was ever used anymore (it's not).
From there, we weaved our way through a series of M.C. Escher-esque elevators and hallways. Renita greeted all the other employees and they lit up when she passed by.
"You seem beloved," I remarked.
"I hate to say it," she replied. "But I am."
When we reached the 86th floor, our final stop, we stepped out into the chilly night, heaters overhead, to see the city from a bit lower. Down here, we weren't looking down like gods from the 102nd floor, we were two similarly heighted, star-crossed lovers.
We made a slow lap around the perimeter, protected by its latticed cage.
"It reminds me of the Eiffel Tower," I said.
"People say that."
I asked about the urban legend: that if you drop a penny from there, you can kill someone. Renita confirmed it's not true; there's a ledge to catch things. I stuck my head precariously through the fence, my large skull being birthed into the airspace just beyond the building, to confirm her report. Sure enough: ledge.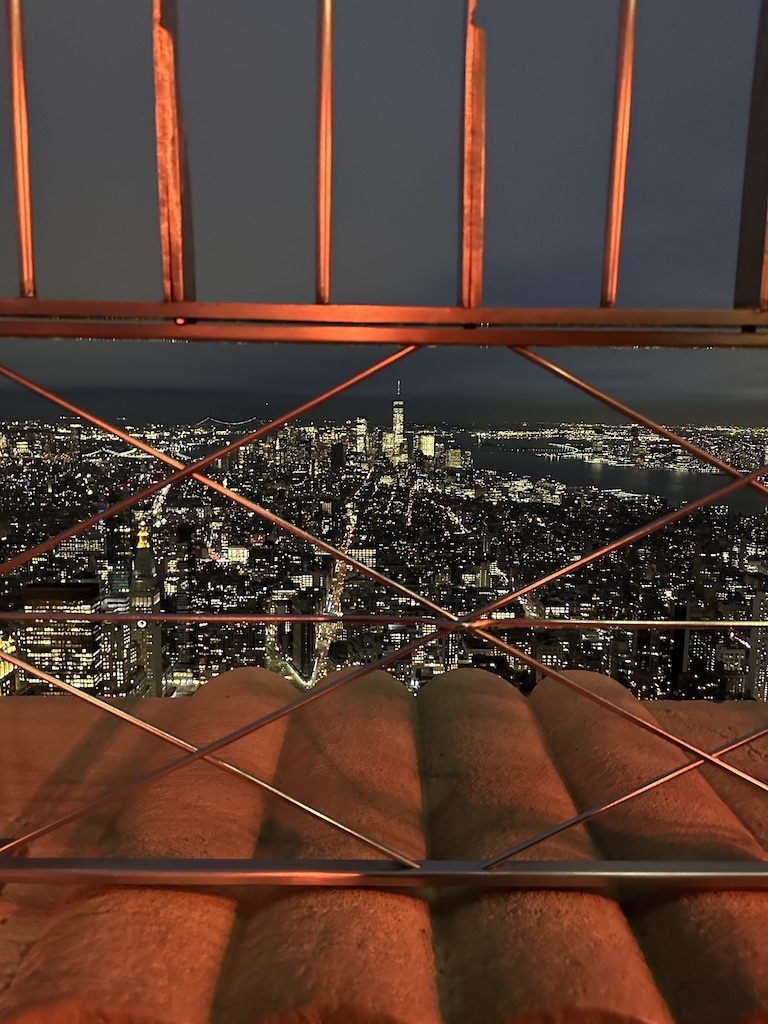 Renita pointed out to the city, sparkling buildings in the darkness, and wistfully remarked: "If you don't fall in love with this, something's wrong with you."
Maybe I'd seen it all before from other angles, maybe I hadn't had enough coffee or wine, but I didn't fall in love with New York on the 86th floor. The view is stunning, can't-miss, but didn't stir my soul like I hoped it might. If anything, what struck me most from my time at the Empire State Building was Renita.
These adventures haven't just been about taking in the sites, sounds, and tastes of a tourist-version of the city in a vacuum, they've been chances to meet the people that make those experiences happen, who tell the story of New York to those who visit. Stewards of facts, figures, and anecdotes, tour guides share parts of themselves, weaving their stories into the story of New York—whether calling security on Will Ferrell to wishing security could be sicked on someone is who is popular on Black Friday being rude. 
The Empire State Building might be New York's Eiffel Tower in that locals never go, but New Yorkers are missing out by not visiting: not just on a view, but on a chance to meet someone that helps everyone take in our city. I didn't buy anything from the gift shop, but I'd be the first to recommend a new piece of Empire State Building merch: a graphic T-shirt that says my truth plainly: "I'm here for Renita."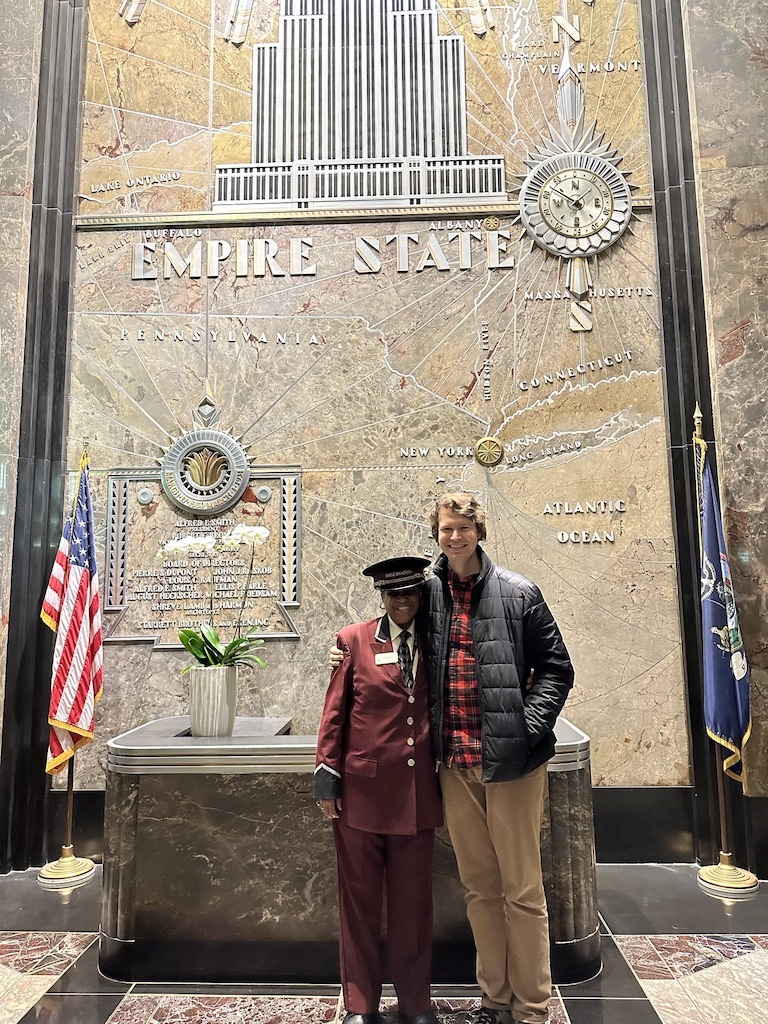 Zach Zimmerman is a comedian, writer, and author of TimeOut New York's "Pretend I'm A Tourist" column. A regular at the Comedy Cellar, Zach has appeared on The Late Late Show with James Corden and had a debut album "Clean Comedy" debut on the Billboard Top 10. Zach's writing has been published in The New Yorker, McSweeney's, and The Washington Post; and Zach's first book Is It Hot in Here? (Or Am I Suffering for All Eternity for the Sins I Committed on Earth?) (April 2023) is available for pre-order now.
Ex-Brit turned Manhattan resident since 2008.