Once again, StreetEasy just released its list of New York City neighborhoods to watch in the upcoming here—and we're here for it.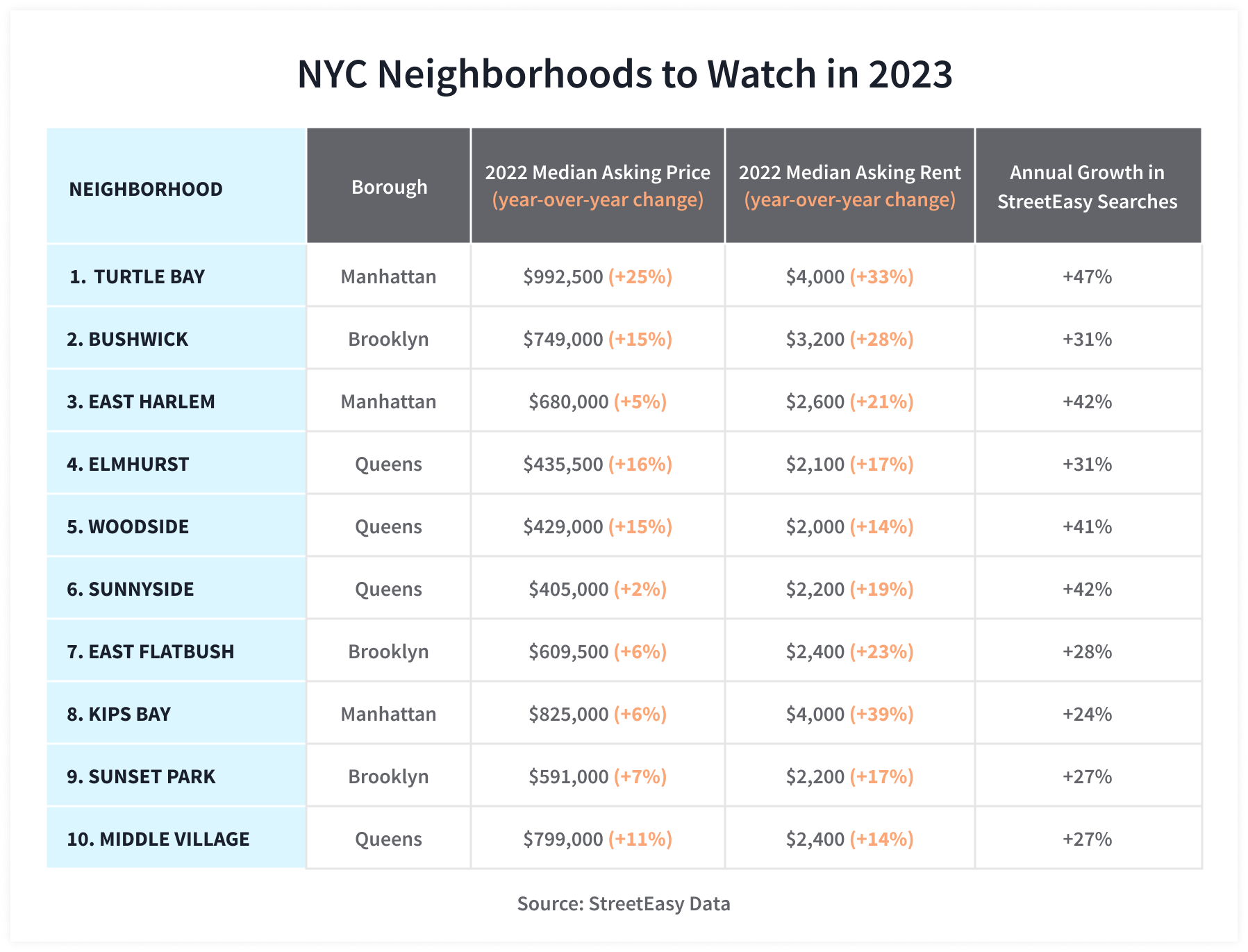 Before we present you with the full ranking, which you can also find right here, a few highlights: Queens seems to be the place to be, with a total of four neighborhoods making it to the top 10 (the most of any borough!). This doesn't surprise us: overall, Queens offers more affordable rent prices and easier access to Manhattan than other outer boroughs—two aspects that prospective home buyers and renters certainly pay attention to. 
The East side of Manhattan will also become even more popular it seems, mostly because of the easy access to tunnels and bridges from that portion of town. Who knows when we'll all decide to flock out of Manhattan for a bit again, right?
A bit about methodology: according to StreetEasy itself, the top ten NYC neighborhoods to watch in 2023 are defined as "the neighborhoods that saw the greatest rise in interest amount buyers and renters in 2022." Even more specifically, the areas "saw strong annual growth in home prices, rents and user searches [on the platform]—a trend that could very well continue next year."
Without further ado, here are the neighborhoods most people will likely want to live in next year:
1. Turtle Bay in Manhattan
2. Bushwick in Brooklyn
3. East Harlem in Manhattan
4. Elmhurst in Queens
5. Woodside in Queens
6. Sunnyside in Queens
7. East Flatbush in Brooklyn
8. Kips Bay in Manhattan
9. Sunset Park in Brooklyn
10. Middle Village in Queens
Ex-Brit turned Manhattan resident since 2008.