Love is in the air this time of year, but if you're looking to pop the question to that special someone, anxiety can be in the air, too. Where's the perfect spot to propose? What if something goes wrong?
We consulted Time Out readers to hear their NYC engagement memories, and their stories assure that if your heart's in the right place, you've got nothing to worry about. These true tales offer romantic ideas for the best spots to propose around town and some calming advice for how to improvise if things don't go completely as planned. Consider these fellow New Yorkers your Cupid for the day.
RECOMMENDED: Wander through a romantic floral maze in Times Square this month
Special delivery via paper airplane
"My husband proposed to me at Macao Trading Co. where we had our first date! He set everything up ahead of time and had the server throw a paper airplane with a letter to me onto the table as part of his proposal!" — Rebecca Krivisky
An Ellis Island engagement 
"I came to the U.S. when I was a child as a refugee from Soviet Russia. My husband's family is also from Eastern Europe, though they have been here for several generations. In honor of that shared history, he proposed to me on the ferry to Ellis Island. We then had dinner at the (dearly departed) Cub Room in Soho, and he had arranged, as a surprise to me, for our parents to meet us for a celebratory dessert!" — Marianna Vaidman Stone (Editor's note: The couple just celebrated 25 years of marriage!)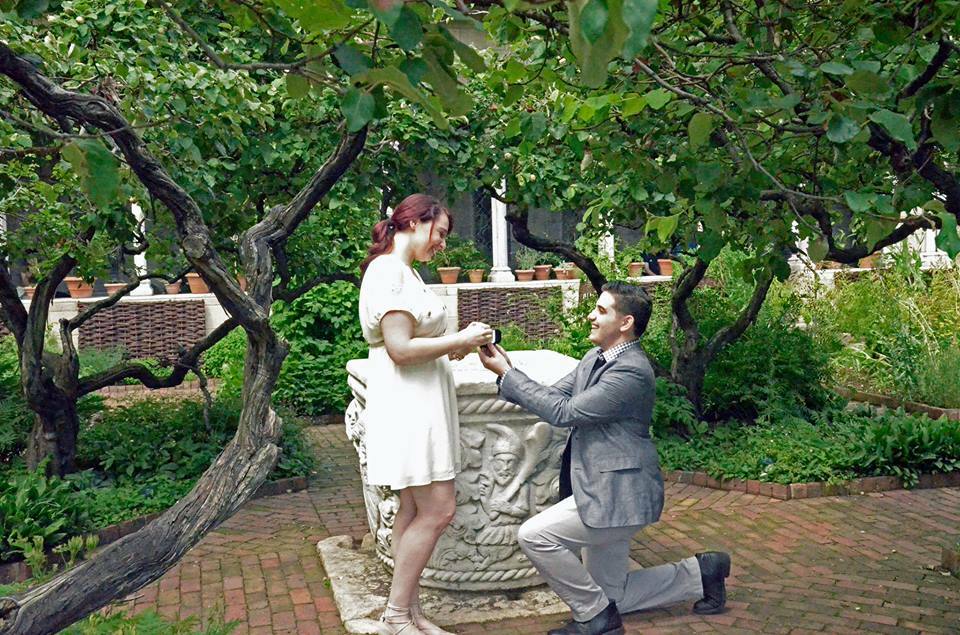 A gorgeous garden engagement
"My then-boyfriend Paul and I hadn't been on a real date in some time back in June 2017, so when the chance came up to dress up and go somewhere we'd never been, I jumped at it. The Met Cloisters, in Fort Tryon Park, had been a far distance to travel from Brooklyn, but that day we were going to do it. We both love fantasy and playing D&D, so being surrounded by actual, incredible medieval art was something we were excited about. Little did I know that Paul had bigger plans for the day. We wound our way around the museum and into the Bonnefont Cloister Herb Garden and stood in the middle, where four beautiful quince trees made a sort-of frame. It was gorgeous being in the middle of the garden and with a view of the Hudson River below. And then he got down on one knee."
— Shaye Weaver, Time Out New York's Editor
Fit for a Shakespearean sonnet 
"I proposed to my bride on the steps of the Met. There were hundreds of people around as it was mid-afternoon on a warm, early fall day. I got down on one knee and tried to recite Shakespeare's Sonnet 18 but I forgot the words and pulled out the ring. We got a round of applause from those on the steps who witnessed it." — Richard Plutzer
The quintessential NYC day
"First stop: The Radio City Christmas Show, then onto the windows at Saks, a quick walk through the bridal department, and then the proposal in a horse and buggy ride in Central Park. Onto dinner at Tavern on the Green and a night at the Marriott Marquis. The most romantic proposal!" — Tracey Singer Strauss
A Central Park proposal
"My husband Marc and I decided on going to the city for the day with his family and mine to visit some museums in 2014. We also people-watched. He ended up taking us to Central Park and proposed to me in the middle of the park with tons of spectators surrounding the area and my family hiding waiting for my now husband to bring me down tons of steps and eventually asking me to marry him! Tons of roses on the floor leading up to the moment." — Mary Williams 
The embodiment of virtue and compassion 
"We were engaged in front of the sculpture of the Bodhisattva, Avalokiteshvara at the Met Museum in gallery 206. We had our friends and family waiting in the wings." — Olivia Cala Buscarino 
A standing ovation
"My husband proposed to me in the Marriott Marquis in a lounge overlooking Times Square. Afterward, people in the glass elevators started banging on the glass and applauding." — Caryn Samitt Silverman 
A rom-com moment on the Brooklyn Bridge
"Fareez and I met right before the pandemic shut down the city. At the time, he lived in Cobble Hill and I lived in the East Village, so we would pack up a bag and travel on foot all the way to the other person's apartment. Like many others, this meant we basically moved in together right after we met. (That relationship accelerator went largely unacknowledged at the time.) As part of this journey, we would always walk across the Brooklyn Bridge. When it came time to propose, I wanted to do it at a landmark tied to the city, and the bridge really felt like an icon of the time we fell in love. I told him that I wanted to take him on a romantic walk across the bridge to a special dinner on the other side, but then dropped down on one knee and proposed halfway across. A friend of mine, who really committed to the bit by dressing in full tourist garb, was hiding on the bridge and got a nice video of the moment. It's always scary to do something big like that in a public setting but luckily everyone on the bridge cheered and gave us a little rom-com clap. The only tip I would give someone considering a bridge proposal is that it is a very long walk to the top! I wish I had packed away a granola bar or two next to that ring!" — Will Gleason, Time Out's North American Content Director
Happy beginnings at Felice
"My husband and my first date was at Bar Felice on the Upper East Side, right near my apartment at the time. Just about five years later, he picked me up from work in the Bronx and drove me into Manhattan to pick up my number for a New York Roadrunners race. He said we should get dinner/drinks since we were already out and suggested Bar Felice. When we arrived, we sat at the same table I was at when we met. The waiter came over with champagne for us both and my (now) husband took out a ring and proposed! The ring was too big so I ran around the block to a jeweler on 2nd Ave to have a guard put on so I could wear it right away (it's gorgeous)! Bar Felice will always have a special place in our hearts!" — Lisa Gwasda Monastero
A love story at The Strand
"Perry proposed to me on March 27, 2018, at the Strand, one of my two favorite places in New York (the other one is Washington Square Park—yes, I went to NYU and loved every minute of it). Fun fact: once we got to the empty third-floor Rare Book Room, where our families were hiding to witness the whole thing live, one of the employees came up to me and asked me to please leave because there was "a proposal about to take place." I, of course, looked her straight in the eyes and said, "Well, I think I'm the one getting proposed to." She turned red and ran away but will always be my favorite part of that day." — Anna Rahmanan, Time Out New York's News Editor
Love in the time of COVID
"Bryant Park during COVID. No one clapped or even looked at us, locals only." — Samantha (@slpro94)
The art of improvisation
"My husband proposed to me at The Cloisters the on a quiet Friday in the afternoon in August of 2016. Before going in, he presented me with two dozen beautiful roses. Upon entry, we learned The Cloisters doesn't allow guests to bring flowers in and coat check wouldn't accept them. The best solution I managed to come up with to save them (the only solution staff was willing to offer was to throw them out for us) was to hide them behind a stone wall in the parking lot. They were full of ants when I came back for them later but they're still the best flowers I'll ever receive in my life and I still have them dried in a jar." — Amanda Prior  
Ex-Brit turned Manhattan resident since 2008.