A couple of weeks back, the skateboarders of Washington Square Park's Garibaldi Plaza had to relocate. The plaza had other plans. 
"This would be a day completely devoted to Doris," says her good friend Hellen Osgood, who curated the incredible journey through Doris' personal photos on display —from her youth, with her husband Jack of 20 years, and newspaper clippings of her participation in various civic actions. Icon in the neighborhood, Doris Deither died September 16, after declining health.
In the last decade, Doris' daily walks through the park were legendary. This joyous tribute was held in the park she loved so much.
Huge letters read DORIS DEITHER on a banner hung above the stage on the plaza with vases of flowers running along the foot and two large-than-life photos framed the scene. 
During the afternoon, park regular sand artist Jo Mangrum created a portrait of Doris at the foot of the stage. 
Under Garibaldi's statue much added to the Doris Deither story—a wedding picture, oodles of decades-back snapshots,  92 years of images. Under an array of smiling and twinkly-eyed Doris headshots hung on a clothesline a myriad of her civic certificates and proclamations.
For people who like to feed the squirrels and the birds like Doris, a large basket held gift packets of birdseeds and peanuts. There were small stuffed animals for the kids.
A Doris Deither Happening
A program began with friend Judson Church Minister Micah Bucey offering a moment of meditation to the park. The sun came out in what had been a dreary morning.  The spirit of Doris was ever present; she even watched from one of her photos. 
Local politicians who worked with or had run-ins gave testimony. "Listen to what's going on and speak up about it," read State Senator Brad Hoylman from a quote-filled Doris palm card. Another Dorisism he quoted: I guess maybe I'm a colorful character.  
Community Board 2 Chair Jeannine Kiley related how Doris will hold the record of the longest serving Community Board member in Manhattan—52 years.  There are now term limits.
Testimonies from many in Doris' life—mentees who learned from her, fellows who served with her, and friends spoke. 
Between testimonies, her good friends Washington Square musicians and street artists—performed. With a foot stamping boogie, piano man Andrew Kalleen revved up the crowd. Village legend, musician David Amram sang a dedicated verse. 
Park performer Tic was overcome with emotion as he spoke.  Comforted by his brother Tac, the two then wowed the crowd with their act. 
To the tune of Runaround Sue, the Washington Square Musicians sang their "Doris in the Park" tribute. "Mother Pigeon" and husband Jason Trachtenburg handed out lyrics to their bird and squirrel song so the audience could sing along. 
Renowned marionettist Ricky Syres whose mini-Doris joined his puppet family, brought out Little Doris and sang the Doris tribute, which he performed at her 90th birthday at Judson.
"She was a role model," said Yuko Otomo noting how multi-generational the crowd was. "She knew how to live life."
The full afternoon ended with children on stage singing Lean on Me accompanied by Scot Gropper and other park musicians. 
A little after four in the afternoon, as if on cue, it began to drizzle as everyone drifted away with a smile on their face. 
One astonished attendee exclaimed after it was all over to Erin Rodgers, Doris' good friend and co-organizer (with Hellen Osgood),  "I had no idea it would be like this!" Erin rebutted responded,  "It was Doris, what did you expect!" 
Sandi Schiffman remembering the scene was amazed by the many worlds of Doris'  life mingling on the plaza, "She touched everyone." And Doris loved her Chihuahua named Bee. 
East Village resident Desiree Perez Rodriguez reflected, "What an excellent example of how a community can come together to mark the passing of one of their beloved citizens. I hope that this will be the first of what will be an annual event celebrating her life."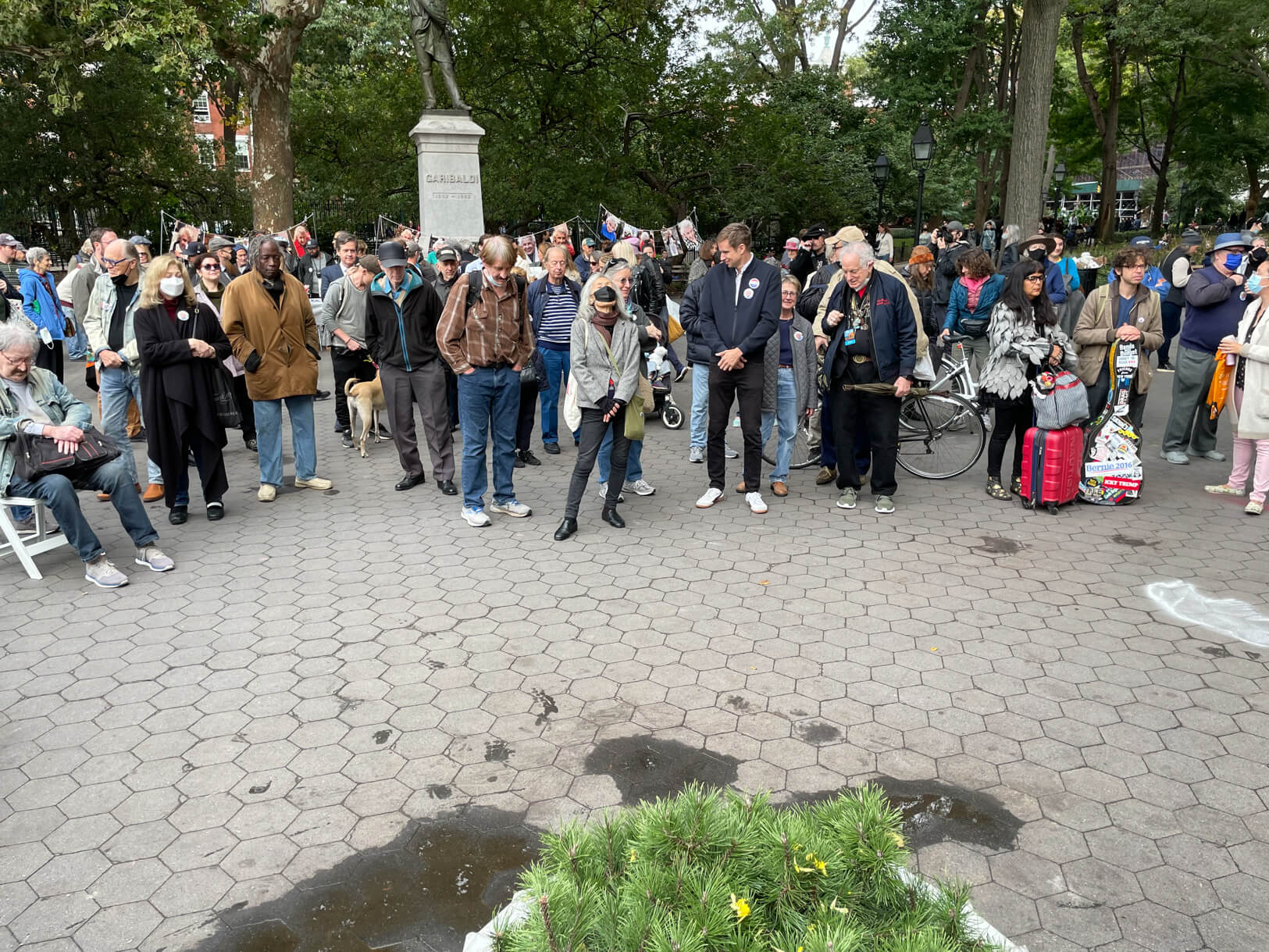 Ex-Brit turned Manhattan resident since 2008.