For Valentine's Day and Time Out New York's "Fire Week" theme, we challenged famous chocolatier Jacques Torres to create (and completely destroy) a chocolate sculpture themed after love, New York City and, of course, flames!
The pastry chef and Nailed It! judge bravely accepted and crafted one of the most beautiful, ambitious and creative designs in chocolate that we have certainly ever seen…and then completely destroyed it with a giant blowtorch.
RECOMMENDED: NYC's top flaming food and drinks to heat up this Valentine's Day and beyond
Torres, a.k.a Mr. Chocolate, invited us into his Brooklyn Army Terminal kitchen to watch the construction and destruction of his creation.
First, he started with a large, circular chocolate base upon which he built the sculpture. Using heat and flame, he molded about a dozen chocolate hearts of different sizes and attached them to the base. He affixed a massive chocolate apple behind them and decorated the entire thing with sweet decals, from taxis to the Empire State Building, and the Statue of Liberty to V-day-themed icons. Behind all of this, he added white chocolate flames his team painted in orange, yellow and white.
It was a chocolate wonder to behold and a centerpiece you might see at an ornate gala.
Then, in an act akin to the Buddhist spiritual practice of creating a beautiful, sandy mandala and dismantling it, he melted the sculpture with a blowtorch that was more than half his size. The chocolate began melting and the hearts and apple fell one by one. By the end, it was a beautiful, tye-dye mess of chocolate dripping down and down and down.
"Do you believe that? They made me melt my creation!" he says. "Hours of work! Actually, it was fun. It was the first time we'd done something like that, and I love to see everything melting. One of my favorite features was when everything was melted, flat on the table."
Every day, Torres and his team use a heat gun or a small blow torch to melt chocolate off tables to clean them …"but not as much as today!" he exclaims. "Never! That was a premiere."
This one-off was before the chocolate's major holiday, Valentine's Day, in which Jacques Torres shines. His shops in NYC are chock-full of gorgeous assorted bonbon boxes, heart-shaped containers full of foiled heart sweets, and bundles of dainty confections.
"I have a lot of friends but I have the most friends around Valentine's Day," 
Torres admits it's difficult to keep Valentine's Day treats novel and exciting year after year, but with experimentation of flavors, toppings, colors and presentations, he finds a way. He's incorporated things like passionfruit, and alcohol like a mojito flavor in the past.
Of all of the options out there, Torres recommends grabbing a box of assorted chocolates because the team at Jacques Torres puts a lot of work into those flavors. People always find something they love, whether its alcohol, coffee or fruit, he says.
Valentine's is always a big time of year for JT, who pretty much eats, sleeps and breathes confections. And when he's not creating his treats, he's giving them away.
"What I do is fun. I have a lot of friends but I have the most friends around Valentine's Day," he explains. He sends his friend's wives boxes of chocolate every year. "The list gets longer and longer and longer every year."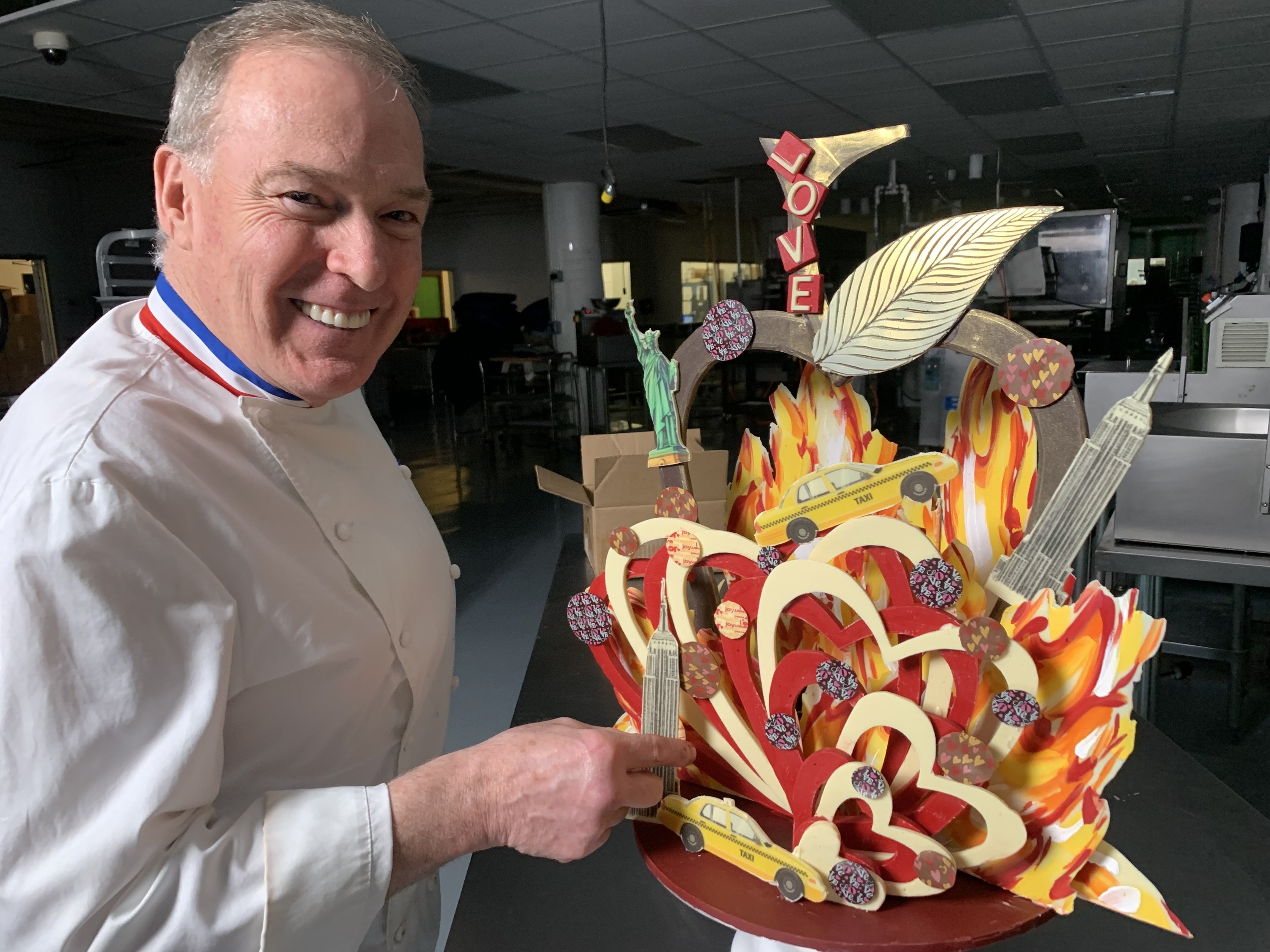 Ex-Brit turned Manhattan resident since 2008.