The New York Public Library (NYPL) just acquired the late Joan Didion and John Gregory Dunne's archive, and we cannot think of a better institution to own the iconic couple's collection of papers, photographs, professional documents and personal items.
A beacon of the country's literary scene who defined New York as much as she did Los Angeles, Didion passed away at the age of 87 in Manhattan on December 23, 2021. Dunne, whom she married back in 1964, died in 2003.
The NYPL announced the acquisition earlier this week, explaining that the collection will be available to researchers and basically anyone with a library card at the Stephen A. Schwarzman Building on Fifth Avenue in Manhattan once processed in early 2025.
"We anticipate that the Didion and Dunne papers, once processed, will become one of our most heavily used collections and an essential resource for scholars, students, and those interested in their intensely collaborative life and work," said Declan Kiely, director of special collections and exhibitions at the New York Public Library, in an official statement. "Both deeply intimate and professionally significant, this collection is incomparable in its scope of materials, providing unprecedented insight into their creative process. We can't wait to make this available to the public and inspire the next generation of thinkers and writers."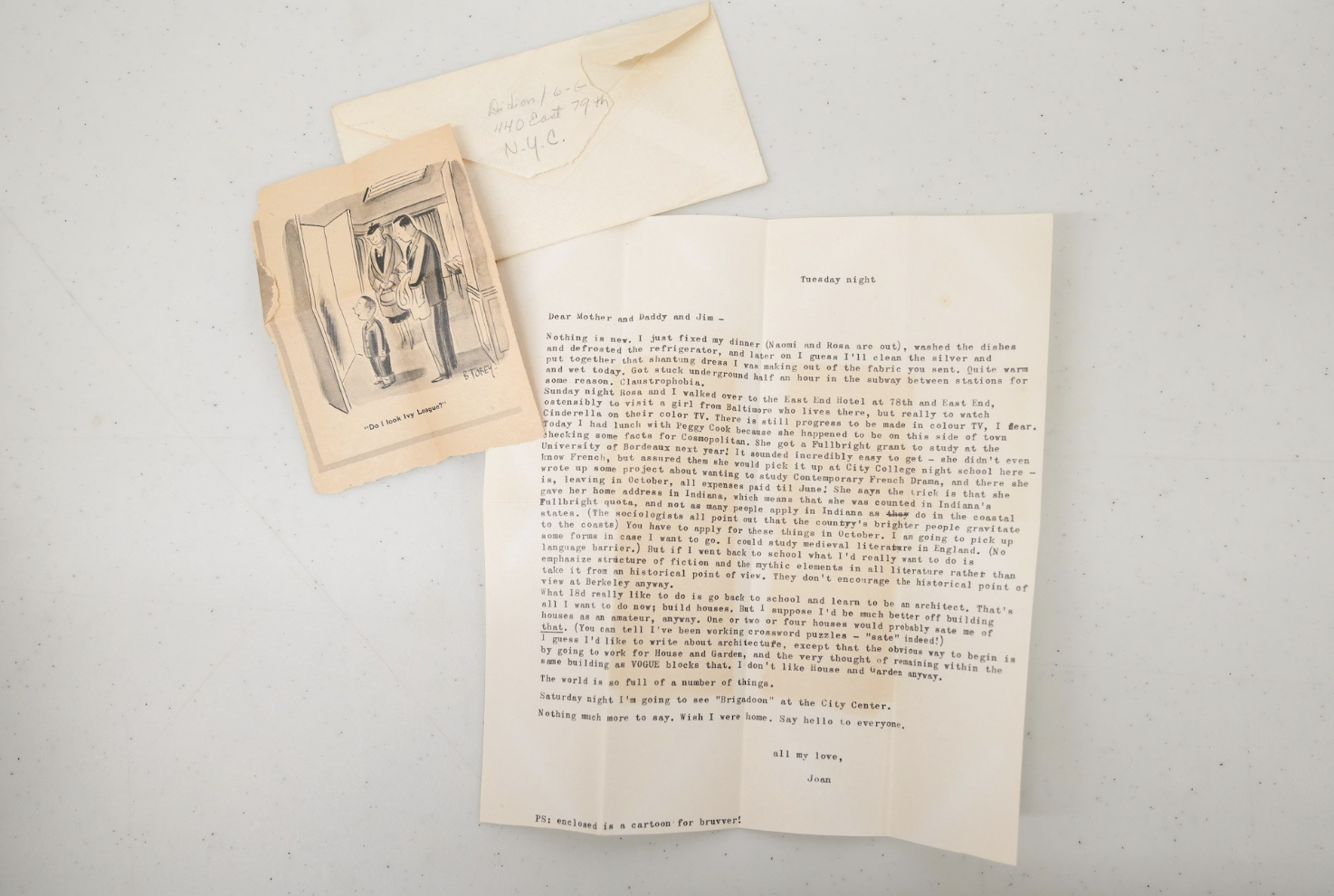 In total, according to the cultural institution, the archive boasts 240 linear feet of material that include dinner party menus and guests list, calendars, hundreds of photographs, 26 screenplay drafts, personal correspondence (think letters to and from the likes of Diane Keaton, Nora Ephron, Tennessee Williams, Philip Roth, Norman Lear, Margaret Atwood, Allen Ginsberg and Jacqueline Onassis, among others), early journalistic writings, handmade cookbooks and even Didion's own "babyhood" book with "portions filled out by her mother." 
New Yorkers' fascination with Didion runs deep—and for good reason. Throughout her extensive career, which kicked off in the 1950s when she won an essay contest sponsored by Vogue, Didion chronicled the ins and outs of life in New York in her books and various outlets.
Among the many topics she tackled, for example, was the Central Park jogger case. In 1991, she was actually one of the first mainstream journalists to note that the Central Park Five had been wrongfully convicted. 
The NYPL already holds the papers of literary giants like Jean Stein and Tom Wolfe, making it the ideal home for Didion's vast array of treasured documents. 
Ex-Brit turned Manhattan resident since 2008.